Detangler Brush
This detangler hair brush has flexible bristles, an ergonomic handle, and untangles any kind of hair quickly and painlessly.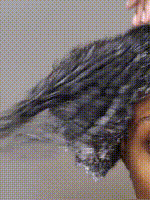 It's actually pretty cool. Just take a peek.
Flexible bristles. Not too soft, not too hard, that's the key to getting tangles out. These bristles untangle without pulling.

Painless. If it always hurt to brush your hair, no one would do it. We made sure this won't hurt, no matter what kind of hair you've got.

Ergonomic handle. Most brushes have handles about as comfortable as a paper weight. Ours is ergonomically designed for maximum comfort.

Non-slip. It's easy to drop your brush when you're combing your hair. The rubber grip ensures that won't happen.

Scalp massage. This is just a cool little bonus. This brush actually massages your scalp as it gets the knots out. It feels really good, too.
It's super easy to use and works on wet or dry hair.

Product Details
| | |
| --- | --- |
| Material | Plastic |
| Dimensions | 23.5x7.7cm |
| Weight | 127g |